Annual Red Dress Gala Awards

The Annual Red Dress Gala Awards is our signature event and fundraiser. It is held each year during the month of February which is National Heart Awareness Month. It is during this time we honor and award heart attack and stroke survivors. We also honor and recognize medical professionals and those who are giving back and making a difference in the heart health community.
 You are invited to join the Open My Heart Foundation's 8th Annual Fundraiser, as we honor heart and stroke survivors, and those who are making a difference in the heart health community. We are working with local hospitals and our goal is to raise $30,000. Proceeds will benefit heart and stroke patients.
This year we are so excited to have a 2-Day Event! The first day will be on Friday, February 17th called: "Health Equity Now: A Symposium on Closing the Gap" hosted by international speaker, health advocate and heart survivor, Rhonda Monroe. We will hear from expert panelists on Historical Injustices, Social Determinants of Health, Social and Community, Healthcare Access, and what we can do about it.
Day 2 is our signature fundraising event, our 8th Annual Fundraiser, the Red Dress Gala Awards! Heart and Stroke Survivors will receive awards called "Survivors that Thrive Award"! We will also award those in the Health and Wellness field in the community with a "Community Service Award". We will have live entertainment, dancing, and much much more in this one of a kind formal all "Red" event!
If you would like to be a sponsor, or place an ad, contact: info@openmyheartfoundation.org
PURCHASE YOUR TICKETS TODAY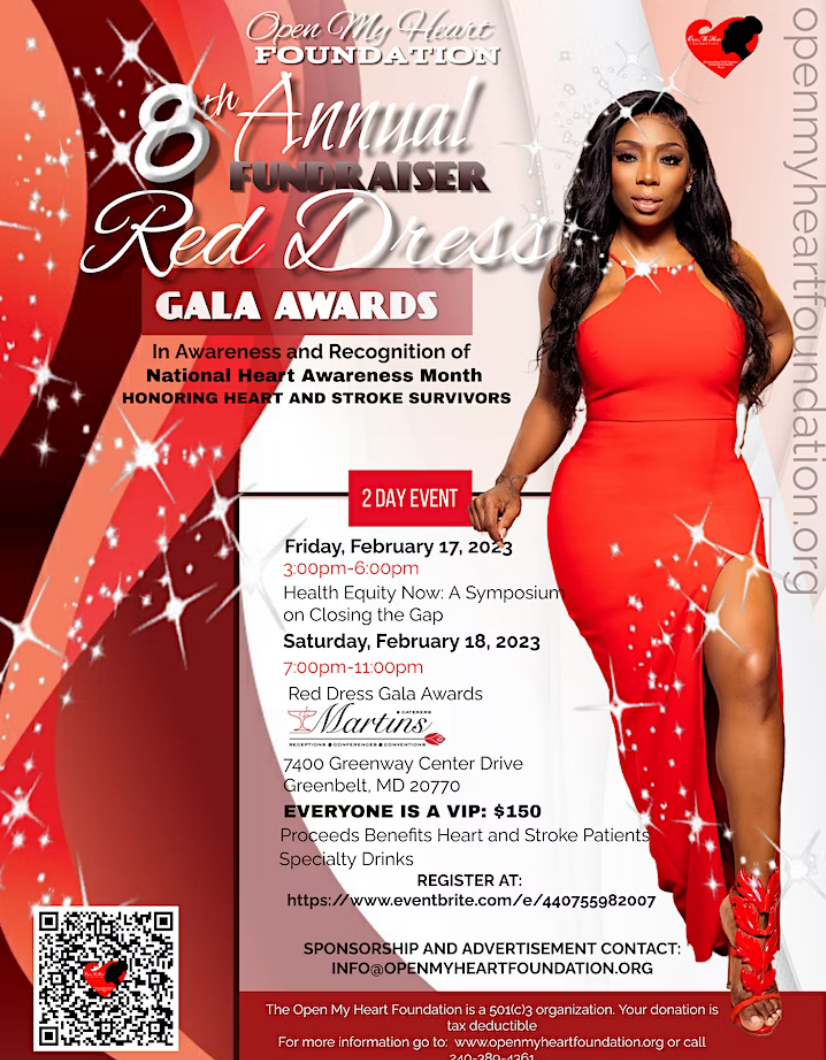 Sponsorship Opportunities Available
Corporate Sponsorship ($5,000)
VIP Reception and Table to the Gala plus Swag Bag ($1,500 Value)
Priority Registration for Special Events
Acknowledgement at Major Events with Speaking Opportunity
Digital access to all published issues, including Newsletter
Advertising: Full Page Program Booklet ($300 Value)
Monthly newsletter mention
Signage at Major Events
Exhibit Table
Gold Sponsorship ($3,500)
4 VIP Tickets and Reception to the Gala plus Swag Bag ($750 Value)
Speaking Opportunity
Priority Registration for Special Events
Acknowledgement at Major Events
Advertising: Full Page Program Booklet ($300 Value)
Signage at Major Events
Silver Event Sponsorship ($2,500)
2 VIP Tickets and Reception to the Gala plus Swag Bag ($500 Value)
Priority Registration for the Special Event
Advertising: Half Page Program Booklet ($150 Value)
Acknowledgement at the Event
Signage at the Events
Bronze Event Sponsorship ($1,000)
2 Tickets to Event
Priority Registration for the Event
Advertising: Half Page Program Booklet ($150 Value)
Acknowledgement at the Event
Signage at the Events