In eating right, look for creative ways to add more fruits and vegetables to your diet, while decreasing fried foods, and saturated fats. It doesn't have to be a science .  Remember, you can always improvise.  Fresh is always best, but you can use use canned corn instead of frozen, dried cilantro instead of fresh, dried garlic instead of fresh. Fresh is always better and more flavorful and you can taste the difference.  The bottom line is that it's made with love.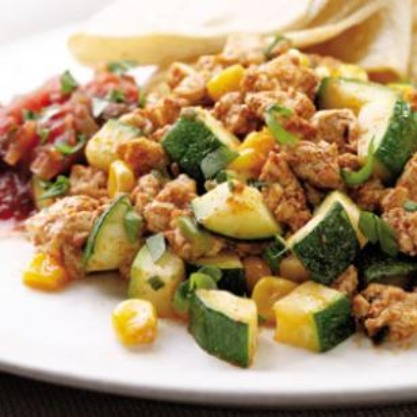 SOUTHWESTERN TOFU SCRAMBLE
3 teaspoon olive oil, divided
1 14-ounce package firm, water-packed tofu, rinsed and crumbled
1½ teaspoon chili powder
1 teaspoon ground cumin
½ teaspoon salt, divided
1 small zucchini, diced
¾ cup frozen corn, thawed
4 scallions, sliced
½ cup vegan cheddar "cheese"
½ cup fresh salsa
¼ cup chopped fresh cilantro

Preparation:
• Heat 1½ teaspoon olive oil in a large nonstick skillet over medium heat.
• Add tofu, chili powder, cumin and ¼ teaspoon salt.
• Cook, stirring, until the tofu begins to brown, 4 to 6 minutes. Transfer to a bowl.
• Add the remaining 1½ teaspoon olive oil to the pan.
• Add zucchini, corn, scallions and the remaining ¼ teaspoon salt.
• Cook, stirring, until the vegetables are just tender, about 3 minutes.
• Return the tofu to the pan and cook, stirring, until heated through about 2 minutes
more.
• Remove from the heat and stir in cheese until just melted.
• Top each serving with 2 tablespoons salsa and 1 tablespoon cilantro.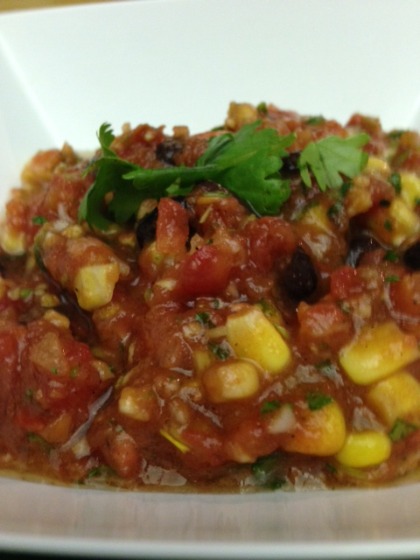 SOUTHWESTERN SALSA
6 plum or roma tomatoes
1 red onion
1/4 cup black beans (drained and rinsed)
1/4 cup corn (thaw first if frozen, drain if canned)
1/4 cup of fresh cilantro
1/2 fresh garlic bulb (or 1 teaspoon of minced garlic)
1/4 teaspoon of salt
1/4 teaspoon of pepper
1/2 lemon or lime
1/4 habanero pepper
1 teaspoon of grated vegan cheese (optional)

Old School Method: Dice tomatoes and onions and place in medium size bowl.  Chop or mince cilantro, garlic and habanero.  Add to bowl.  Add corn and beans.  Add seasonings.  Top it off with squeezed lemon or lime. Stir well. Refrigerate 10 minutes.  Top with cheese.  Enjoy! These are approximate measurements, but you can season to taste.

New School Method:  Place habanero, onion, garlic and cilantro in food processor.  Pulse 3 or 4 times.  Remove and place in medium size bowl.  Cut tomatoes in half or quarter and place in food processor. Pulse approximately 2 or 3 times.  (Do no overdo because it will get mushy.  I like mine chunky). Add to the bowl.  Add beans and corn to mixture.  Add spices and lemon or lime.  Stir well and refrigerate 10 minutes.  Top with cheese if you'd like.  You're all set!